This page last updated 12/19/99
---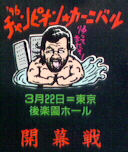 Thumbs Up!!
You have found the NEW OFFICIAL DR. DEATH FAN PAGE. This is the place to find all the True info on Dr. Death Steve Williams ( this is not a fans page ) but the real thing all info on this page is right form Steve Williams himself he will also email the fans himself if you join the list. It is our mission to keep you the fans up to date on all the info we can, but till then set back and see what you can find on the Doc right here at his own web page, Don't believe the stuff you read on the net you have a first class scoop here. From the main source DR. DEATH
---
Steve went to school at Lakewood High School
In Lakewood, CO. He graduated in 1978.
He was one of the star athletes
So much so that he was given an athletic scholarship
to the University of Oklahoma where he
got the name Dr Death because of his tuff reputation.
This is were the Oklahoma Stamped was mastered.
No one could tear down a defensive line
like Dr Death using the Oklahoma Stamped.
After four years of collage
He graduated in 1982 with a B.S. in health and recreation.
Soon after college he signed a contract with the
USFL New Jersey Generals,
As a Offensive Guard he was cut in 1983 for playing to rough.
It was then that promoter Bill Watts offered
Steve a contract with the UWF (Universal Wrestling Federation)
this lasted from 1982 through 1987.
During this period he held the ,
World Heavyweight Championship in 1987,
Tag team champion in 1986 and 1988
From there he moved to the NWA (National Wrestling Association)
this one lasted from 1987 through 1988.
From there he moved on to the New NWA, this is when Ted Turner
bought into the wrestling business.
Steve left the NWA in 1990. This is where he left the eyes and ears
of American wrestling fans, it was like he dropped of the earth,
other then a few appearances here and there.
He had signed a contract with the All Japan Wrestling.
where he has held countless titles and belts
as only Dr Death could do.
Including the International Tag Team Champion in 1990.
He has been there the last seven years.
Now he is on his way back to America.
He was signed under contract with
the WWF (World Wrestling Federation)
He has appeared two times in the brawl for all, he won the
first one but was injured in the second one.
He was recovering from a dislocated shoulder
and a pulled ham string, When the WWF decided that they would no longer need him in the WWF due to the deadbeat dad charge that was falsely put on him. Now proven to be a hoax through DNA testing. Since then he is working on going back to Japan but he does not intend to forget his fans in the U.S. he has been working with the WCW so that the American fans can see him. As he said he has some real hardcore fans still left here in the states that have not forgot him and where he has come from. and the outcry of these fans have made him strive harder to be the kind of wrestler he is..
We have had
Visitors to this page!
---
---